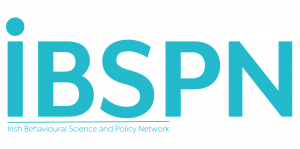 We are glad to announce that the 13th annual one day conference on Economics and Psychology will be held on December 11th, 2020 virtually on Zoom.
The event will take place between 1pm and 5pm.
The conference is jointly organised by the UCD Behavioural Science and Policy Group, the ESRI Behavioural Research Unit, the Irish Behavioural Science Network, and the Department for Psychological and Behavioural Science at LSE.
The purpose of these sessions is to develop the link between Economics, Psychology, and cognate disciplines throughout Ireland. A special theme of these events is the implications of behavioural economics for public policy. Registration to attend is free of charge. The event takes place on Zoom.
For more information about last years' conferences, click the following links: 2019, 2018, 2017
To register for the conference please click here: https://ucd-ie.zoom.us/meeting/register/u50qde6hrzwoHtXg-jweyek1O_v4KyRcTUmf
Preliminary schedule

13:00 – 13:10: Introduction
13:10 – 13:30: Deirdre Robertson (ESRI) on "Can Visual Cues to Portion Size Reduce the Number of Portions of Consumed? Two Randomized Controlled Trials"
13:30 – 13:50: Hannah Julienne (ESRI) on "Behavioural pre-testing of COVID Tracker, Ireland's contact-tracing app"
13:50 – 14:10: Leonhard Lades (UCD) on "Sludge and Transaction Costs"
14:10 – 14:20: Break
14:20 – 14:40: Margaret Samahita (UCD) on "Social media and the formation of policy preferences: Experimental evidence in the time of COVID-19"
14:40 – 15:00: Michael Daly (Maynooth) on "Adaptation to the COVID-19 pandemic in the US and UK"
15:00 – 15:20: Pete Lunn (ESRI) on "Advances in Online Behavioural Measurement for Policy"
15:20 – 15:30: Break
15:30 – 15:50: Shane Timmons (ESRI) on "Psychological factors in the decision to self-isolate when experiencing symptoms of COVID-19"
15:50 – 16:10: Vessela Daskalova (UCD) on "Discrimination in Collective Decisions"
16:10 – 17:00: Panel Discussion chaired by Liam Delaney.
17:00: Socialising
Please feel free to contact Prof Liam Delaney under L.D.Delaney@lse.ac.uk if you have any questions.