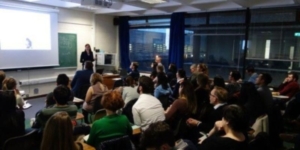 The 2020 PhD Conference in Behavioural Science will take place (virtually) on December 10th, 2020 at 1pm.
Register for attending the conference here: https://ucd-ie.zoom.us/meeting/register/u5ApdOipqzkiGNfKThxNZiUsxtyySAO0BfV6
After registering, you will receive a confirmation email containing information about joining the meeting.
The conference will be hosted by the Behavioural Science and Policy Group at the Geary Institute for Public Policy based in University College Dublin in collaboration with researchers from the Stirling Behavioural Science Centre. This continues successful annual events held at Stirling and Dublin. For information about previous PhD conferences click these links: 2015, 2017, 2018.
We will use the Zoom Breakout Rooms for the parallel sessions. Please make sure to use a Zoom desktop client or mobile app, version 5.3.0 or higher in order to self-select the breakout rooms. Here are details about how to update Zoom: https://support.zoom.us/hc/en-us/articles/201362233-Upgrade-update-to-the-latest-version
We look forward to welcoming you virtually to Dublin.
If you have questions, feel free to send an email to leonhard.lades@ucd.ie.
The preliminary schedule is below: